Language learning is an ideal learning and development (L&D) investment. Improve your competitiveness and company communication, and see your business flourish for many years to come.
Make the most of employee time
In terms of time, effort and budget, language training through Busuu for Business provides a fantastic return on your L&D budget. In fact, an independent benchmark study demonstrated that 22 hours of training with Busuu provided students with the learning equivalent of a 40-45 hours University instruction (i.e., an entire semester).
Don't just take our word for it. See why HR teams, executives and employees love Busuu for Business:


"In my opinion, the best thing about Busuu is its methodology. We wanted to leave the classical e-learning training courses and have something more accessible, agile and usable, and of course, fun, and with Busuu we have achieved this."

- Marta Pereira, Head of E-Learning and Content, Palladium Hotel Group
Demonstrate clear results
Our Busuu for Business Management Platform makes understanding the impact of language training easy. It allows you to closely monitor employee performance over time and create and export progress reports. In our most recent survey, over 85 percent of participating employees made significant progress learning a language with Busuu.


Increase employee engagement
The best L&D programmes are those that employees can relate to personally. And learning a foreign language is one of the rare goals driven by both professional and personal ambition. In short, language training is something most employees will engage with and welcome with open arms. Studies show that engaged employees are happier and more enthusiastic about their work, and provide better customer service.
Benefits of Busuu for Business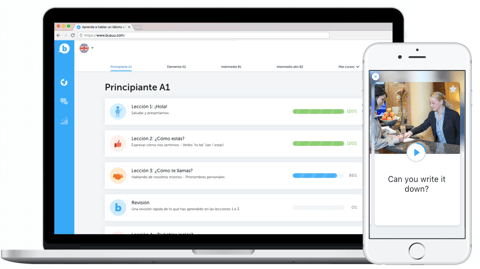 Unlimited access to courses in 12 languages
Perfect for early stage learners to develop fast fluency
Suitable for all areas of hospitality - from restaurant to housekeeping
Scalable to a large number of employees with competitive prices

‍