At a glance
Industry: Construction
Objective: To provide staff with effective and flexible online language training, replacing their previous in-person offering as a result of COVID-19.
Result: Complete resolution of their language training challenges, with thoroughly engaged learners progressing towards their language learning goals.


The challenge
Astron Buildings is the leading European supplier of pre-engineered steel buildings, with over 50 years of experience in the industry. As a multinational construction company with 13 locations all around Europe, having a common language for teams to better connect with each other was key. In addition, Astron Buildings wanted to enable staff to communicate with clients in their native language, therefore, enhancing customer experience, and ultimately, building better relationships.
Previously, language training had been delivered via more traditional, in-person classes. With the impact of the pandemic, they had to re-think how they could continue to deliver language learning to their teams remotely.
The solution
Before selecting Busuu, Astron Buildings reviewed over 30 platforms, ranking their top 5 using the following criteria:
A tool that was easy and simple to use

A platform that came with a mobile app

A solution that offered flexibility

A tool that allowed learners to personalise their studies

A platform that allowed them to see the learning progress of employees

A solution to fit their budget
Not only did we meet all of their requirements, but Astron Buildings were impressed by the accolades the tech industry had awarded us. They subsequently selected Busuu as the ideal language learning platform for their workforce.
---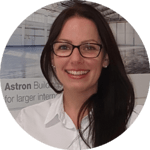 "We experienced excellent guidance and customer support during the onboarding process. Our employees are very satisfied with the tool."
Gabriella Losonczi, HR Officer
---
The implementation
Astron Buildings shared the opportunity to learn a language using Busuu with staff via an email announcement, starting with a small number of licenses. Due to the positive responses from staff, and their smooth onboarding experience, it wasn't long before the offer was extended to more members of the team. We sent Astron Buildings additional materials to help their learners familiarise themselves with the app and start their language learning journey on Busuu with ease.
Feedback from learners
"To be honest, feedback is very positive, all our learners say Busuu is an addictive tool. They carry out their daily commitments and then they find themselves working on Busuu for much longer"
Gabriella Losonczi, HR Officer
Astron Buildings also collected feedback from their employees to understand how Busuu worked for them. Here are the key elements they found most helpful:
The Community
"The native speakers in the short videos speak at my language level"- Anikó, Steel Detailer, Hungary
"I like that there is a community correcting my written and verbal tasks, while also creating the opportunity to make new connections with others" - Natacha, IT Analyst, Luxembourg
The user experience
"I like the flexibility of being able to learn anytime, anywhere"- Nikétás, Support Engineer, Hungary
"The platform is easy to use with an intuitive and user-friendly interface" - Valentin, Key Accounts Project Manager, Romania
The Personalised Study Plan
"The personalised goal setting and study plan allows me to plan my workload to avoid overloading, and the daily goal motivates me to reach it" - Gundolf, District Manager, Germany
The results
"My advice to other organisations considering Busuu would be to just go for it, and don't be afraid! It's a tool that can convert learners from offline to online learners."
Gabriella Losonczi, HR Officer
Busuu was able to offer Astron Buildings a complete remote language learning solution as an alternative to in-person classes. Members of the Astron Buildings team, who welcomed the opportunity to learn another language, have been exceptionally receptive to the format, flexibility, and support Busuu gives them. Several learners are even studying multiple languages, and one member of staff, who was initially skeptical, has become one of the top learners at the company.
With such a positive first experience of Busuu's online language training, Astron Buildings would happily recommend us to HR professionals at other organisations.
We believe amazing things happen when we learn together.
To find out how Busuu could help your company with its language learning objectives, get in touch.

‍