Learning that works for you
Why Busuu for Business?
Our high-quality learning supports both employee and company-wide
personal development goals.
For HR teams and administrators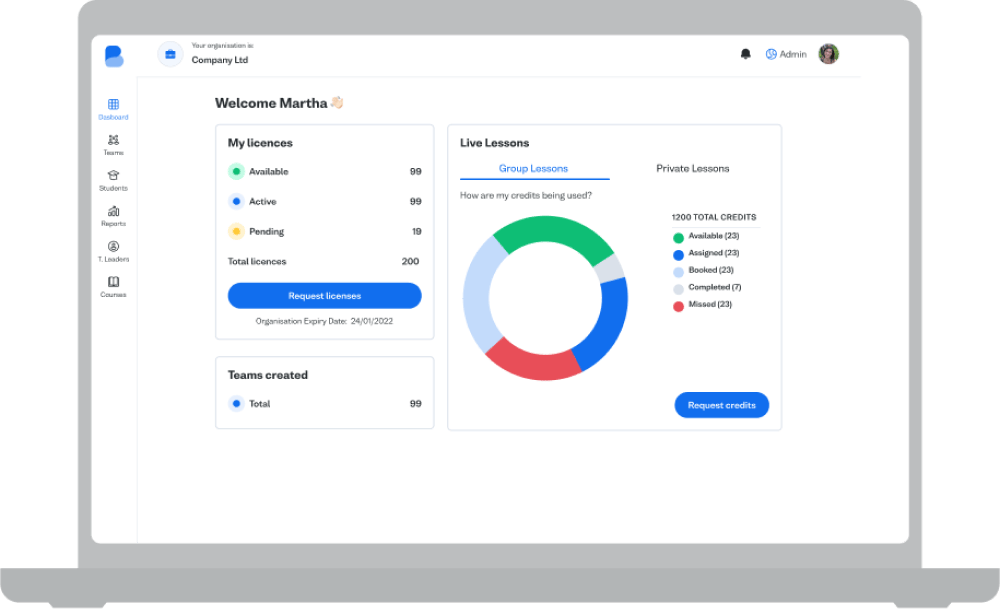 For HR teams and administrators
Busuu for Business is easy to integrate, making day-to-day management simple and straightforward. Administration teams can manage thousands of learners from one central portal, tracking progress and measuring results and engagement.
For learners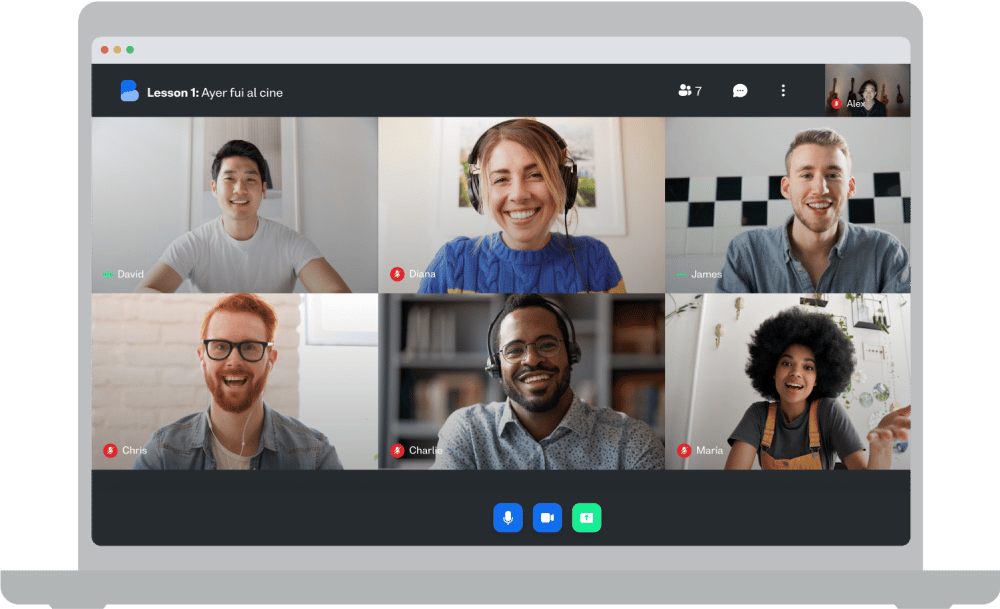 For learners
Offer your teams a flexible language learning benefit that boosts confidence and opens new career routes, all aligned with the internationally recognised Common European Framework of Reference for Languages (CEFR) standard.
How we can help
Supporting HR and Learning &
Development teams
1
Customised content
Our lesson content is available on iOS and Android apps and web, for truly flexible study. Our learning packages can be customised to suit your operational needs.
2
Easy day to day management
Team and individual learning activity is measured on our easy-to-use Management Platform. This one-stop shop administers licences, tracking engagement and progress, with an overview of lessons, courses, completion rates and attainment levels.
3
Continual support
A dedicated Customer Success Manager will act as your single point of contact. They'll provide a seamless journey from implementation to adoption, managing KPIs and assessing engagement to ensure best possible return on investment.
4
Insightful reporting
Our Management Platform has detailed reporting functionality, to track business-wide and individual learner outcomes. We'll conduct regular reviews to provide insights on current engagement, and provide strategies to maximise usage across your organisation.
5
SSO integration
We have extensive experience in Identity Provider (IdP) integration for a secure and seamless experience with Single Sign-On (SSO) login access. We're experts at integrating our product with existing LMS partners to make accessing learning straightforward.
Busuu for Business for learners
Inspiring learners
A unique learning mix
Global community
Enriched support from the Busuu Community to encourage even the most hesitant learners. These native speakers give helpful feedback, cultural insights and pronunciation tips to accelerate learning.
Live Lessons
Strengthen speaking skills with Live Lessons. Hosted in small groups or privately, our team of certified teachers deliver quality content to support self-paced learning topics, helping learners reach fluency faster.
AI-enabled learning
Busuu uses machine-learning in our Smart Review to help learners focus their practice exactly where it's needed. Goals are set and tracked in a personalised Study Plan, and our interactive content encourages long-term learning and sustainable outcomes.
Industry specific
Busuu for Business has a growing portfolio of industry specific language courses. We can deliver the exact terminology your teams need to confidently communicate in specific markets, including Automotive, Logistics, and Retail.
Business specific
Our master linguists are happy to create bespoke course content to suit your precise business language needs. We can develop and deliver your tailored course in as little as 5 weeks to cover industry trends, specific business processes or employee transactional vocabulary.
our Packages
Choose plans that work for your teams
Flexible packages built around your need
Vocab and Grammar Smart Review
Busuu Management Platform
Branded onboarding emails
Essential
Languages (self-study)
14
Vocab and Grammar Smart Review
Busuu Management Platform
Branded onboarding emails
Professional
Languages (self-study)
14
Vocab and Grammar Smart Review
Busuu Management Platform
Branded splash page
Extra
Branded onboarding emails
Extra
Personal CS manager
Extra
Global
Languages (self-study)
14
Vocab and Grammar Smart Review
Busuu Management Platform
Branded onboarding emails
Speak with us to build your own package
Tailor-made solutions with prices
adapted to your needs