Busuu's powerful integrated learning experience
Why Busuu is the right partner to grow your business through languages.
Our learning methodology
Our unique, integrated curriculum brings all the skills together in one complete package. Self-study prepares learners for live lessons, making best use of their time so that teacher-led classes can focus on building spoken fluency faster than with traditional study.
Our lessons are designed to be accessible to all learners: from language novice to polyglot. Our teachers are carefully trained to support learners of different ages, styles and cultures. Busuu's community of native speakers is our most popular feature. Getting supportive feedback from fellow language learners helps to rapidly develop learners' fluency and boost their confidence and self-efficacy.
We are best in class at learner retention and motivation. Every screen is designed to incentivise learners to continue, from the encouraging way we write tips to features we build. For example, our study plan breaks down learning into manageable chunks which fit each learner's unique schedule and study preferences. We are committed to carrying out regular, independent research into the quality and effectiveness of our courses.
Benefits of partnering with us
We offer our global community of committed learners the best way to learn a language: the perfect balance of self-paced study and practice with native speakers.
Collaboration and productivity
Employee engagement and development
Talent retention and attraction
Skill upscaling
Inclusivity and democratised learning
Improved customer experience
Increased sales potential
1-1 lessons
With 1:1 lessons you can benefit from increased focus on business language skills for all modes of communication, including: presentations, meetings, negotiation, phone calls, emails and more. Our courses are designed to suit your fluency level. And our teachers will work with you to understand your needs, and design not only a learning path but a bespoke curriculum.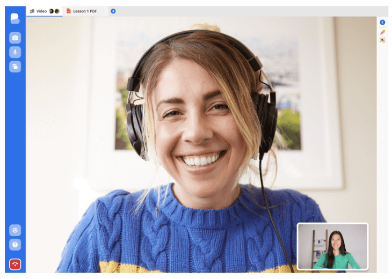 Closed and open group lessons
Designed to work in tandem with the self-led learning curriculum, closed Live Group Lessons match the fluency level of your teams. Learners receive equal time so everyone makes progress. Open Live Group Lessons can fully adapt to suit the needs of your organisation. Book lessons when it's most convenient for you and your teams.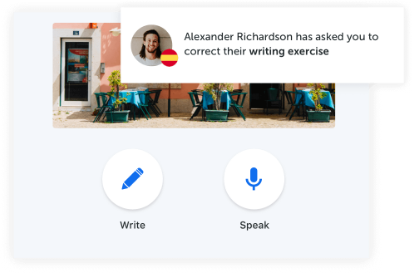 Top-tech self-paced courses
Follow Busuu's self-paced lessons created by industry experts, which cover listening, reading, speaking and writing and include plenty of AI-powered graded listening and reading practice and regular review of vocabulary and grammar.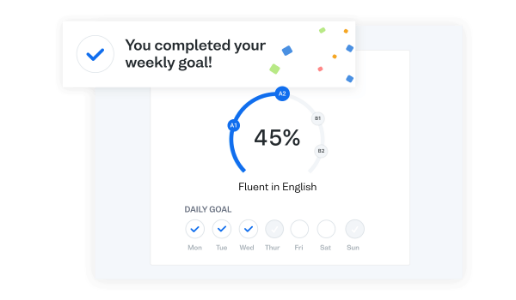 Global community
Busuu provides multiple opportunities to interact and practise with others in a safe and fun environment. We represent the diversity of language learners, teachers and cultures worldwide. Unlimited practice opportunities are provided through our Community, with helpful native speaker feedback available 24/7.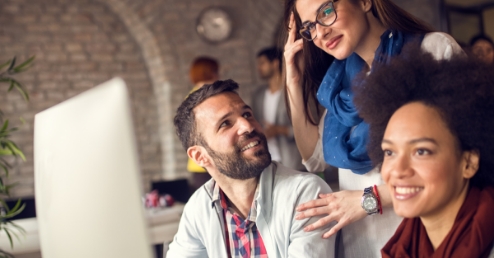 International certified teachers
Our carefully selected and trained teachers provide an authentic language learning experience, ensuring each lesson drives practical learning outcomes for you. Our top-rated teachers, with an average rating of 4.8, ensure that lessons are tailored to your goals and real work situations. They push you towards your desired learning outcomes, and love to hear about your team's progress.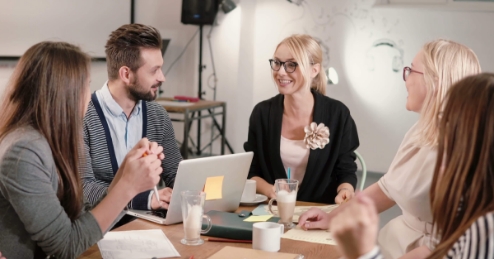 Why is learning on Busuu so effective?
Learning on Busuu is proven to rapidly develop spoken fluency faster than traditional face-to-face methods. Our unique methodology means learners can move up a level in as little as 20 hours.

Live lessons
Live lessons with a professional teacher accelerate students' spoken fluency and confidence, enabling them to participate in real-life conversations, make new friends, achieve more at work and access new cultures.

Global community
We have a global community of over 120 million learners from different language backgrounds, providing unlimited opportunities to practise speaking & writing.

Top-tech coursework
Courses and features are designed to sustain engagement long-term, including a personalised study plan to set achievable goals, AI-driven smart technology which builds individual learning pathways and rich media which introduces culture alongside language.
Contact us
Take the next step
Join our portfolio of industry-leading clients from across the globe. Reach out to us to kick-start you company's language learning journey.